Dance to Help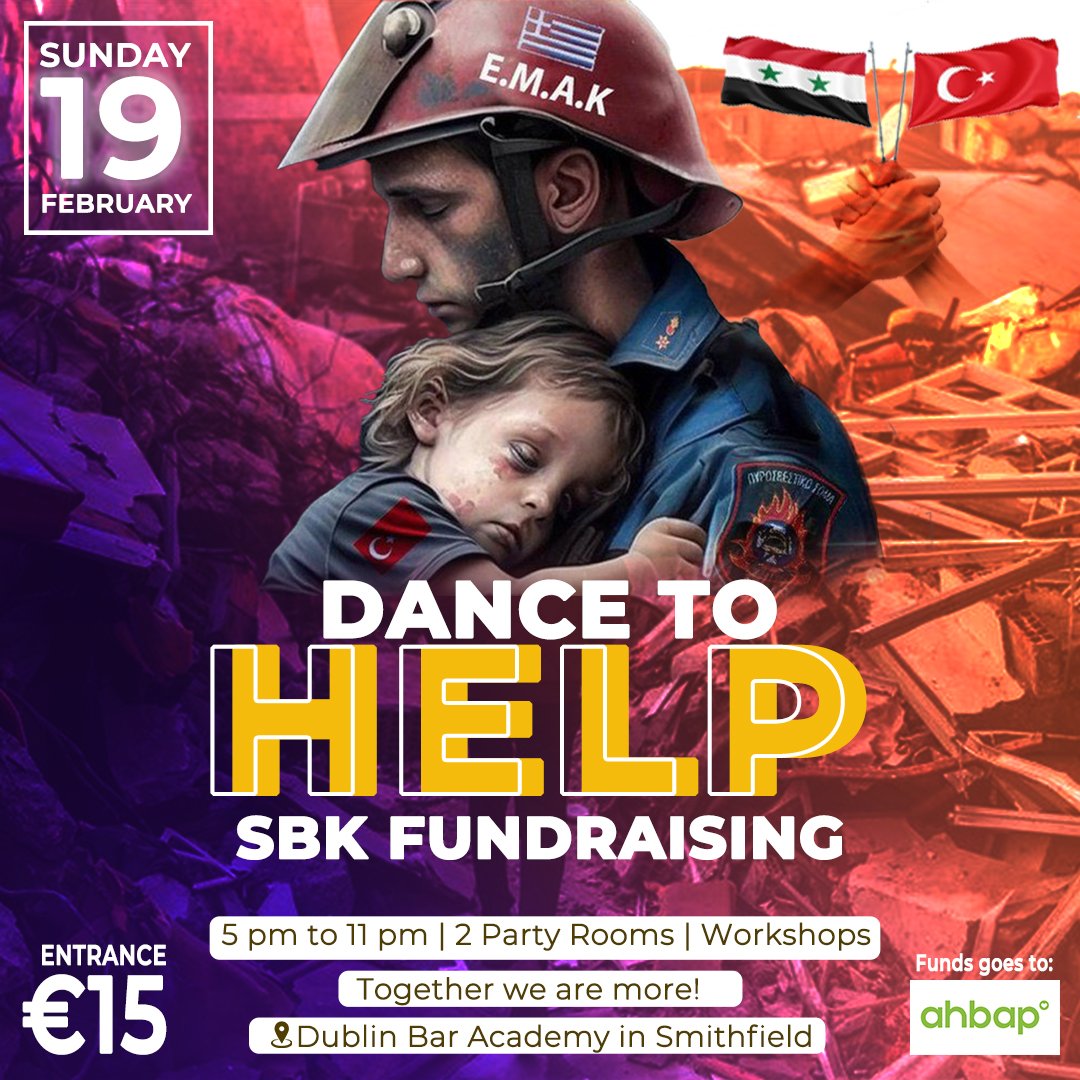 Salsa – Bachata – Kizoba Fundraising!|
We are all aware there is a very difficult situation going on in Turkey and Syria caused by a horrendous earthquake.
This is the moment we get together and help, and we, the Latin Dance Community in Dublin, badly want to assist, as any small contribution could save one family. Many SALSA, BACHATA, KIZOMBA & ZOUK schools based in Dublin (more will join us), have come together to organise one huge collaborative event to assist and collect as much funds as we can to help the people in both Turkey and Syria.
WORKSHOPS | 2 PARTY ROOMS | RAFFLES
When: SUNDAY 19th of February
Schedule:
5 PM TO 6 PM | Salsa workshops, 3 levels – 2 rooms
6 PM TO 7 PM | Bachata & Kizomba workshops, 3 levels – 2 rooms
7 PM TO 11 PM | Social Dance | Salsa/Bachata room & Kizomba room
Where: Dublin Bar Academy – 141, 146 King St N, Smithfield, Dublin 7
Two classes and Party: €25
One class and Party: €20
Only Party: €15
For this event, the payment is only in cash
Schools involved:
Infinity Salsa School
Trinity Dance School
Salsa for everybody
Salsa Medics
Latin Spice
Strictly Salsa
Baila Mar
Quedadas Salseras
Zouk Ireland
More to come…
All full-class schedules are coming soon.
Please share this with your dance friends and help us to help!
Facebook event link here:
https://fb.me/e/6lnpWS7Kp